NEW: Liverpool Among Clubs Able to Earn £100m From Newly Anticipated Competition
Liverpool and Manchester United are set to be invited to compete in FIFA's new 24-team Club World Cup, which could be worth up to £100m.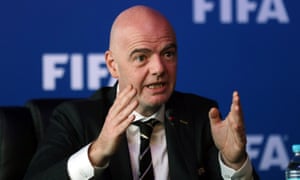 FIFA is determined to get the competition up and running, with plans in place for the tournament to be held every four years with the first taking place in 2021.
12 of the 24 clubs would be from Europe and FIFA's favoured option for the tournament's debut is to invite clubs that have won three or more European cups.
That would suggest that Liverpool, Manchester United, Real Madrid, Barcelona, AC Milan, Inter Milan, Ajax and Bayern Munich can expect to receive an invitation to participate.
Gianna Infantino, the president of FIFA, is keen to strike a deal before the World Cup starts in June, and is likely to call an emergency FIFA council meeting in the next few weeks to get approval.
£1.5 billion would be divided up and shared between the 24 clubs that compete, with every club receiving a minimum of £50 million just for taking part and the winner taking as much as £100 million.
Bobby Barnes, the European president of the international players' union FIFpro, is part of UEFA's Professional Football Strategy Council (PFSC) and said that his main concern was to ensure that this competition didn't put an extra physical demand on the players.
He said:"We have spoken to various people about the health and safety aspects of this, the well-being of players and ensuring they are not overworked."
"This is part of the whole discussion around the international match calendar, so if there is no annual Club World Cup and no Confederations Cup, it may not mean more matches for the players."